Many homeowners choose wood flooring for kitchens because they want to create one big great room, says Lisa Wells, owner of Geneva Flooring in San Diego. "The reason is to tie together all the areas," she says. "They don't want to separate the flooring."
Before choosing any wood kitchen floors, consider these things, says Harry Tishler, owner of Tish Flooring in Indianapolis.
• Will it bother you to see minor dings and dents in your floor?
• Do you view imperfections as character traits of natural wood?
• Do you want to be able to sand and refinish your floor?
• How much time are you willing to spend maintaining your floor?
Engineered flooring versus solid wood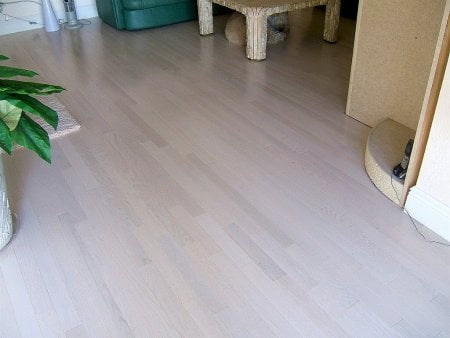 The answers matter because you may need to do more work than you want to maintain it, Tishler says. "No matter how expensive or inexpensive the wood is, because it's a naturally soft product, over time it is going to show scratches, dents, and dinks. If you know that going in, you'll be really happy," he says of solid wood flooring.
Solid wood floors shrink, usually in the winter when there's less moisture in the air. Likewise, they expand during the spring and summer when there's more humidity in your home. A home humidifier can help maintain appropriate moisture levels. However, kitchens with wood floors will likely need buffing and a fresh coat of polyurethane every few years.
If you prefer a smooth, dent-free, lower maintenance wood floor, consider engineered flooring. "A half-inch engineered wood will hold up better to splashes than a solid floor," says Eric Bateman, owner of Common Sense Flooring in Oceanside, California.
Bateman says engineered flooring also works better over a slab floor because it was designed to withstand the changing conditions in the concrete subfloor. "It takes longer for engineered product to move with humidity than a solid product. It's less vulnerable to humidity."
Like solid wood, engineered flooring comes with a downside. Engineered wood is made from layers of compressed wood that's bonded together with heat and adhesive. The top layer, known as the wear layer, can't be sanded and refinished as often as one solid strip of wood flooring.
"If engineered is worn in one area, someone can bust through to the other area and it won't look good," Bateman says. If you'd like the option of sanding your engineered flooring, make sure the top layer is at least 3 millimeters thick, he says.
Still, one benefit of natural wood is that you don't need to pull out the entire floor if it's damaged by water. The entire floor can be sanded and restained as often as needed, says Kelly Cobb, general sales manager at Flooring Direct in Dallas.
While you can replace some engineered wood planks, Cobb says the replacements should come from the same dye lot. If you need to replace more planks than you have left over after laying the floor, it will not match. Even planks taken from the same dye lot might not match perfectly depending on the age and wear on the floor when you replace the planks.
If you really hate scatches and dents from everyday kitchen activity, Wells says to stay away from dark, shiny hardwood floors. "If you drop a pan on it, you'll see the dent," she says, as well as shoe dust, dirt and scratches. "You will see the wear at the kitchen sink and in front of the refrigerator."
Wells says white oak or wire brushed wood do a better job of hiding the foot traffic and mishaps that occur in a kitchen. In addition to being very strong, with a tighter, straighter grain pattern, white oak wood is sold in a wide spectrum of colors from white sapwood to dark browns.
Meanwhile, wire brushed wood, with its etched design, features a subtle textured look on a smooth surface. "It's practical [in the kitchen]," Wells says. "It will hide denting and scratching because you have movement and texture in the wood."
Follow floor manufacturer's maintenance guidelines
Whichever wood floor you buy, follow the manufacturer's instructions when you clean your floor. "Don't listen to anyone else, except the manufacturer," Tishler says. "That's where the warranty is supported. They all have recommendations about how to take care of their floors."
In fact, Tishler recommends reading the floor's warranty before you buy it. "Find out what products are required and the level of effort by the homeowner that's needed to take care of the product," he says.
A reputable dealer will include the information. You can also find it on the manufacturer's website, he says. If after reading the warranty, you're not sure you can or want to do what it takes to keep the floor's appearance up to your expectations, don't buy the product.