It is so pleased to deliver this review to you guys. A few days after my house was decorated, I found the location of the sink really awkward. There were walls on three sides. No more space for placement when you wash your dishes.
I am a regular customer of ADBIU, and basically in my kitchen over half are ADBIU products, so ADBIU gave me this opportunity to write a review about this dish rack.
Let's start from the parcel and the delivery is as good as ever.
The unpacking photos are too many, so i send a few for you. There are many parts in the parcel and every part is in an individual package, a separate carton, complete and safe delivery for you.
The installation is not complicated, all you need to do is matching the screws to the holes of the main rack, so i just skip the steps.
The rack is in high quality with bright and smooth black finish and stainless steel material. Here is a point i have to say, the soldering point of these baskets is smooth and natural, really good product.
You can see my awkward sink in the photo, little room for normal operation. But when i have this rack placed on, problem solved immediately. I put the plates and bowls on the rack after washing and water will directly drop into the sink, easy and convenient work now.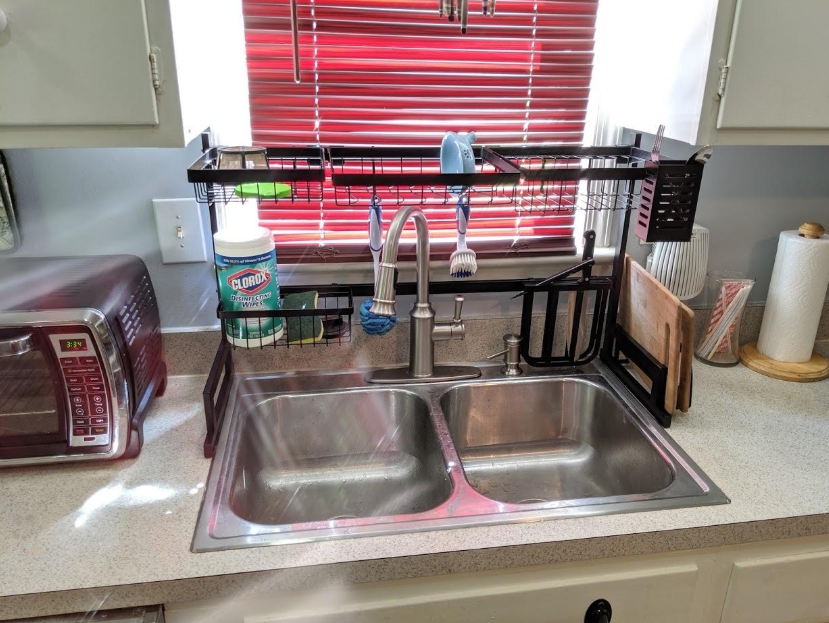 Black Over Sink Dish Drying Rack
All the baskets can be easily assembled for clean-up and you can also adjust their positions to your preferences. There are suction cups on the bottom of the rack for fixation, no worry for slipping, it is very sturdy design.
Conclusion: It is an over-sink dish rack, made of stainless steel, high quality. The design is sturdy and excellent for space-saving. Special dish rack for your home, eligible for accessing all stuff of a 3-person family. For short, this rack is really a god tool to save small kitchen, so thanks to ADBIU for designing this excellent practical product.