Lovely Kitchen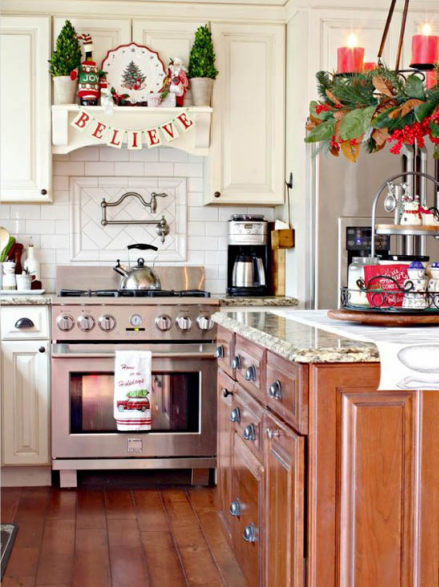 You will surely adore your kitchen with this simple decorations to put up. If you have an L shaped kitchen, this is the best thing do during the holiday season. As you can see from the image, it looks elegant and classy.
Mini-Bonsai Kitchen
It looks like a small greeny bonsai with some red balls at the bottom. Display this in your kitchen for a holiday season and experience something new. It is truly cold outside during this Christmas.
Kitchen's Tree of Joy
This will truly give joy to the whole family while having dinner during Christmas season. The word JOY is printed on a white plate to give emphasis with the color. Their is a small artificial bonsai below and some white pigurines. You can found also brown pine cones that add up to its uniqueness.
Hot Cocoa Station in Kitchen
It is obviously a station of cocoa powders found in your kitchen during Christmas put in a reusable bottles and mugs. The taste of cocoa will surely sweeten the bond of the whole family while sharing the foods prepared for the celebration of the birth of our Lord.
Star Bright Kitchen
Witness a twinkling stars in you kitchen this Christmas with this beautiful arrangement of small stars put in windows. You will be more amaze if your kitchen have a deemed light. It will twinkle like a star in the sky.
Snowy Kitchen
The color red and white theme in the kitchen during Christmas is the traditional one. Many people used this as a Christmas decoration idea. It has snowy garlands scarttered .
Cocoa Menu
This daily Christmas menu is made up of reusable bottles filled with marshmallows, cocoa powder and candies is not just sweet but also amazing. Use this as your guide during the holiday season.